An Introduction to Pollution Laws and Regulations in Washington State, USA
Like many other littoral states within the United States, Washington has exercised the right to legislate its own oil pollution prevention and response requirements. Vessels must comply with both state and Federal requirements prior to entering Washington State waters. There are additional points to note due to the proximity with the Canadian border. With thanks to Schwabe for their assistance.
Vessels of 300 gt or more, as well as all tank vessels and commercial tank barges, must have an approved oil spill contingency and response plan that meets state criteria.

One way vessel owners may obtain compliance is to subscribe to an umbrella oil spill contingency plan provided by one of the following providers (dependent upon port of call):
Washington State Maritime Cooperative (WSMC)
National Response Corporation (NRC)
Maritime Fire & Safety Association (MFSA)

The standard versions of the plans listed above are compliant with IG Guidelines, and full Club cover is therefore available.

Washington law makes it unlawful for covered vessels to operate in Washington waters without an approved plan, and the approval must be renewed every five years. Penalties for violations include criminal liability (gross misdemeanour for the first violation and Class C felony for second) and penalties of up to US$100,000 per day of violation.

Members are reminded that whilst many spill response organisations contract on terms that meet International Group requirements, some may seek agreement of terms which do not conform.

Members are advised to contact the Club prior to signing any spill response contracts to ensure that proposed terms do not fall foul of International Group requirements and potentially prejudice cover.
Since
July 2011
, vessel owners or operators must report to the U.S. Coast Guard and Washington's Emergency Management Division any emergency that results in a discharge or a substantial threat of oil discharge into state waters, or that may affect the state's natural resources, within one hour of the onset of the emergency. Among other things, reportable incidents include a total loss of propulsion, groundings, fire or flooding, broken tow resulting in a drifting barge, collisions, allisions or a potential sinking.
The Department of Ecology advises that the following factors should be taken into account when considering whether a vessel emergency substantially threatens Washington State's natural resources:
Ship location and proximity to land or other navigational hazards
Weather
Tidal currents
Sea state
Traffic density
Severity and nature of damage to vessel
Timing or likelihood of vessel repairs
These reports are to be made in addition to the Federal requirement to notify the United States Coast Guard of vessels with known 'hazardous conditions'.
Many states choose to require additional evidence of financial responsibility on top of the requirements already mandated by the Federal government. For example, Alaska and California both require additional Certificates of Financial Responsibility, or COFRs.

In 2022, the Washington legislature passed an act updating financial responsibility requirements for vessels in Washington waters, which will require vessel owners who transport hazardous substances (including oil) in bulk to obtain a COFR from the state of Washington. Though an act has been passed, Members are not currently required to obtain a Washington COFR, as accompanying regulations for procedures and specific requirements for obtaining a Washington COFR are not expected to be implemented until early 2024.

The Club will keep Members updated on the outcome of the ongoing rulemaking process and dates for adoption.
Members should note that irrespective of whether the NRC Covered Vessels, Washington State Contingency Plan, MFSA or the WSMC enrolment agreement are used, for all tank vessels and cargo and passenger vessels over 300 gt, it will still be necessary, prior to entry into Washington State waters with the exception of the Columbia River, to enrol with the Emergency Response Towing Vessel (ERTV) for the services of the tug stationed at Neah Bay. By signing an enrolment agreement for the ERTV, the owner ensures that the ERTV will be on standby each time one of its vessels calls at a Washington State port (with the exception of the Columbia River). It is a requirement of Washington State law that this tug be on standby at all times during the visit of a vessel. By signing the enrolment agreement the owner agrees to sign a contract with the owners of the tug should the services of an emergency response tug be required during the course of a visit.

Re-enrolment in the ERTV is only necessary when vessel ownership/management has changed. A revised Schedule of Vessel Information form is to be re-submitted whenever vessel information, as reported on that form, has changed.

The Marine Exchange of Puget Sound maintains a FAQ's page, here.

The standard enrolment agreements described above comply with IG Guidelines and full Club cover is therefore available.

Washington law requires vessels over 300 gt to complete an open sea ballast exchange at least 50 nautical miles from shore prior to any discharge in Washington waters, unless the ballast water has been appropriately treated. Washington imposes incremental penalties, not to exceed US$27,500 per day, for any ballast water violations.

Since May 2018 a No Discharge Zone has been in effect banning the release of sewage in Puget Sound, whether treated or not.

The NDZ includes all Washington marine waters east of New Dungeness Lighthouse, at the east end of the Strait of Juan de Fuca, in addition to Lake Washington, Lake Union, and the waters that connect them to Puget Sound.

Further details, FAQ's and maps of the 2,300 square mile zone are available on the Department of Ecology's website.
Requirements for pre-booming have been in place for vessels delivering oil in Washington for many years. The specific requirements depend upon the rate of transfer and the facility receiving oil, however, in most cases Members will be delivering to what is referred to as a 'Class 1 Facility'.

Such facilities must have the capability to boom vessels, though the requirement to ensure pre-booming rests with the deliverer of the oil. Members are advised to check with their local agent prior to arrival to ensure that the facility will in fact provide booming for the vessel.
The Strait of Juan de Fuca separates the Olympic Peninsula of Washington State, USA, from Vancouver Island, British Columbia, Canada. The international boundary lies in the middle of the Strait.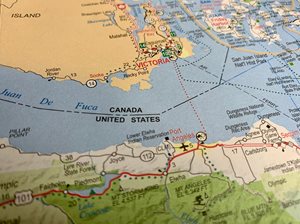 Vessels transiting the Strait will naturally cross the international boundary. Contingency Plan providers NRC and WSMC have therefore established agreements with Western Canada Marine Response Corporation that provide coverage for vessels transiting the Strait, avoiding duplication of enrolment fees.
In the event of an oil spill incident in the Strait of Juan de Fuca, Haro Strait, Boundary Pass, Strait of Georgia and Salish Sea there is also a specific Joint Marine Pollution Contingency Plan between the USA and Canada that promotes a coordinated response to events in adjacent waters.

Joint exercises are carried out to prepare for such eventualities.
Members may wish to consider joining voluntary schemes VBAP or ECOPRO. These are standards designed to reduce the probability of an oil spill in state waters by identifying areas where operations can improve safety beyond existing regulations. ECOPRO standards exceed VBAP standards.
Companies that elect to participate will receive public recognition for commitment to marine safety and environmental stewardship.
Further details can be found at the Department of Ecology website,
here
.