Seafarer Desertion - The Club's Experience
The Club has recently undertaken an analysis of claims involving seafarers who have deserted their vessel over the previous ten years. Although these types of claims are not common and nor are they particularly expensive, they can be disruptive to a vessel's operation, and take up management time to rectify. In some cases, the deserter will turn up shortly after going missing, in others, they have disappeared for a considerable period of time.
The ranks of those that desert a vessel are many and varied, including cadets, crew and officers from all departments, and although it is unusual for senior officers to leave a vessel in these circumstances, in one case a Chief Engineer deserted. The only discernible pattern is that catering staff, chief cooks, cooks, stewards and messboys predominate over other departments in the Club's statistics, with chief cooks and cooks in particular featuring regularly in deserter cases.
Although, statistically, due to the unknown makeup of nationalities serving on entered vessels at any given time, it is impossible to say whether one nationality or another is more likely to desert an entered vessel, a review of our claims files has shown that Vietnamese, Turkish, Chinese and Cuban seafarers predominate.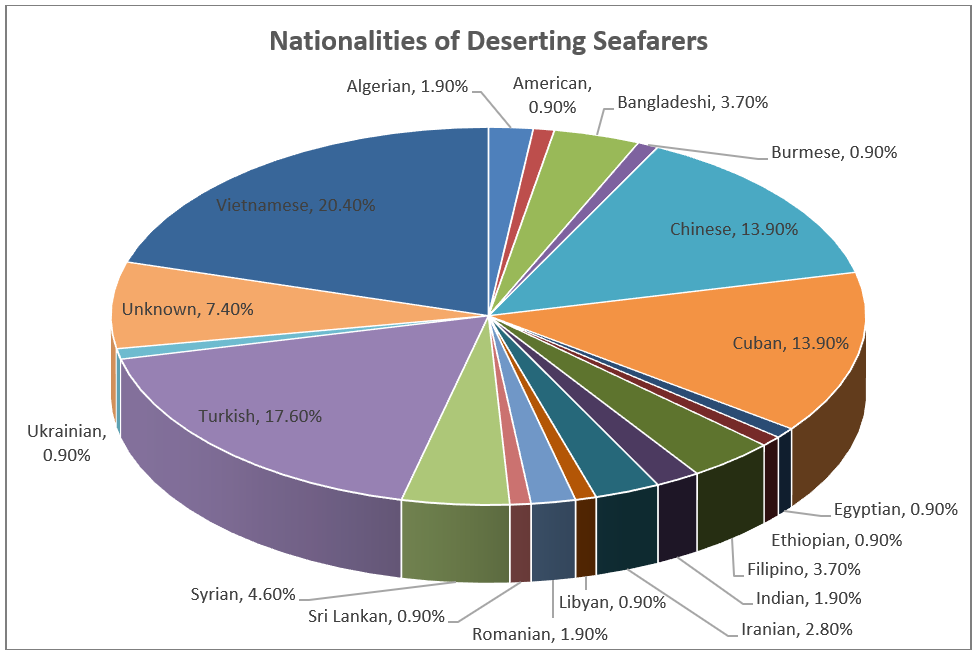 Certain countries do preponderate in relation to where we experience desertion cases, with Canada, South Korea and Australia being popular destinations, followed by the USA and Spain. There are also a handful of trends in relation to which nationality of seafarers predominate in desertion cases in certain countries:
Chinese and Vietnamese seafarers deserting in Australia
Turkish and Cuban seafarers deserting in Canada
Chinese and Vietnamese seafarers deserting in South Korea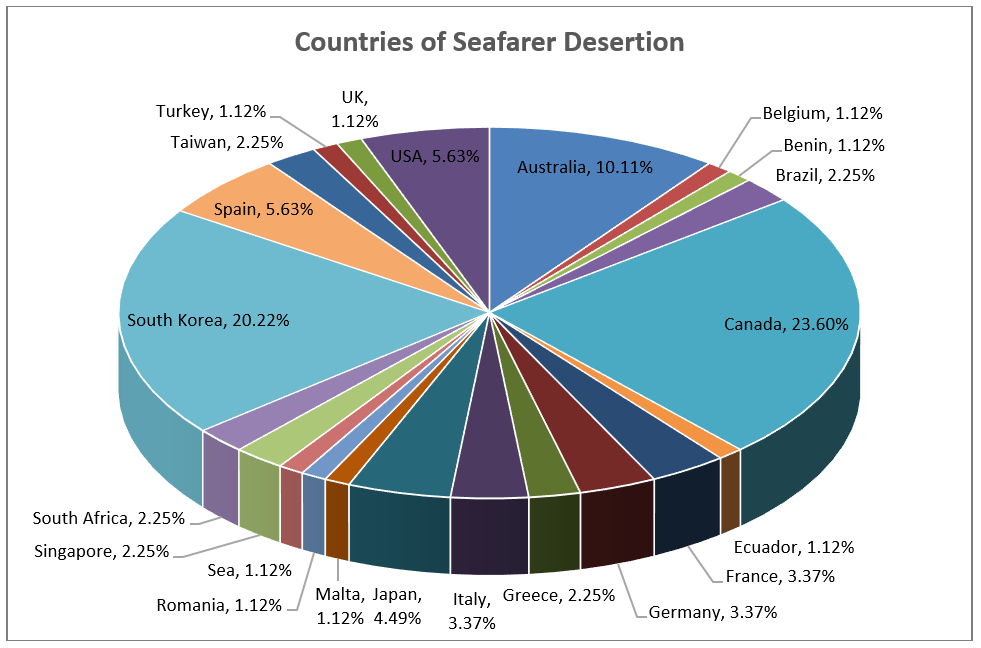 Although the number of such cases experienced in a given year can vary considerably, the overall trend when correlated to the growth of the Club's entered tonnage during the period, is slowly downwards: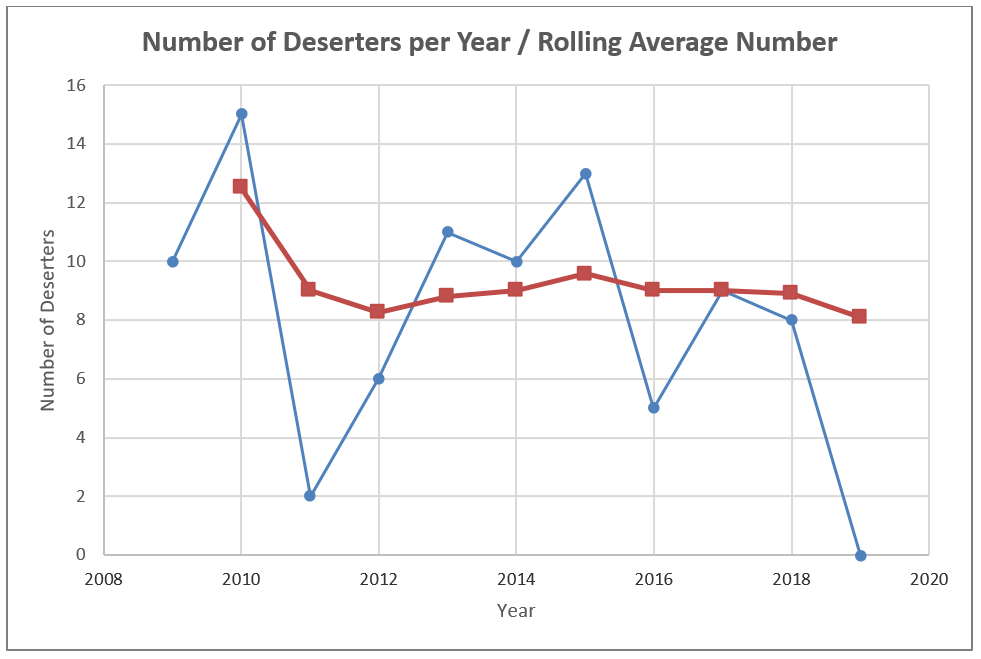 The circumstances surrounding desertion cases are many and varied. The following are some examples from the Club's files:
An oiler claimed he required medical attention whilst the vessel was alongside in Canada. Arrangements were made to take the seafarer to the doctors but once ashore he disappeared. A few days later a second seafarer demanded to be repatriated with full pay, otherwise he threated that he too would disappear. He was escorted to the airport by security guards until he was under the care of the airline, at which stage he claimed asylum.
An AB due to be repatriated at the end of his trip from a port in Greece requested to visit the bathroom prior to being driven to the airport. He never returned from the bathroom, and although his colleagues searched for him, they found no trace.
An AB requested an USD 800 cash advance and his passport from the Master so that he could transfer money home when ashore in the USA, but he never returned to the ship.
In a South Korean port, the cook was denied a shore pass by the authorities as he had illegally entered the country previously. When his crewmates were sleeping, he stole the shore pass of a colleague and disappeared ashore.
In Canada five crew were being repatriated at the end of their trip. The cook checked-in first for their flight home and then declared he was going outside the terminal building to smoke. He never arrived at the gate to board the plane.
In an Australian port, three deck crew packed up their belongings and surreptitiously left the ship. They were eventually arrested by the local authorities and deported to Turkey.
A number of cases have occurred when all of the seafarers have been placed ashore while their vessel was being fumigated.
Sometimes the seafarer will be apprehended by the authorities or occasionally they will turn up at the agent's office, and in such situations they are either returned to the vessel or deported. In a number of cases the seafarer concerned has requested asylum. Often they will disappear and nothing further on the matter is heard by the Club.
Identifying the circumstances that could lead to the desertion of a seafarer is difficult, however where seafarers voice dissatisfaction with their work, or make an early request for repatriation and / or have family or spouses at a country of call there may well be a risk, in particular if they request their passport as they allegedly need it as identification when ashore, for example, to transfer money or for purchasing a SIM card. However, in numerous cases the seafarer has not taken their passport or shore pass with them when deserting a vessel. Needless to say, if a seafarer is determined to gain entry to a particular country, it will be difficult to prevent such an occurrence.
Members requiring any further guidance should contact the Loss Prevention department.